MAGIC is currently experiencing one of the strongest bull runs in the whole market; let's see why!
What is MAGIC? MAGIC is a utility token used as a cross-game currency to connect gaming communities in the Treasure Metaverse, a decentralized NFT ecosystem on Ethereum's Layer 2 scaling solution. It was launched in September 2021 and serves as a reserve currency for the metaverse. Players can earn MAGIC tokens through gaming, mining, and participating in Treasure's games, including Bridgeworld, Beacon, and Realm.
MAGIC's Crash and Recovery
Unfortunately, like many other cryptocurrencies, MAGIC had a terrible year in 2022. It lost almost 97% of its value, which was one of the worst declines in the industry.
However, after the November crash induced by the collapse of FTX, MAGIC's price began to turn around and slowly started a bull run. From November 2022 until the 17th of February 2023, the token gained over 1,000%, which is one of the biggest rallies seen for a top 100 market cap coin. Despite this rally, the coin is still 65% below its all-time high, which was reached in February 2022.
MAGIC Respects Its Support and Resistance Levels
One interesting feature of MAGIC is that it is one of the few altcoins that actually respects its support and resistance levels. Most altcoins go right through their previously established zones. However, MAGIC is different in this regard and is more likely to bounce off of them. This means that technical analysis can be more reliable when trading this cryptocurrency.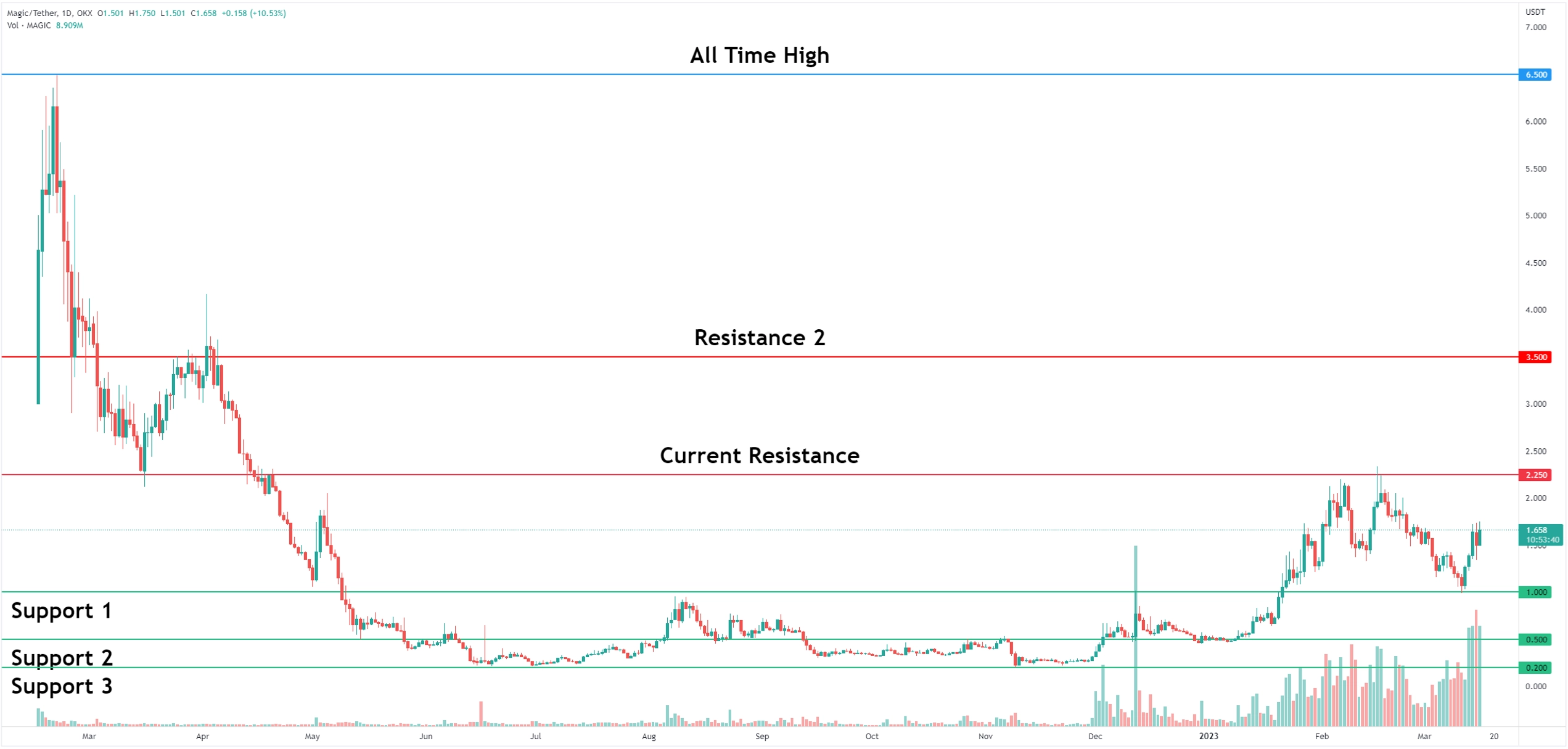 MAGIC's Current Price Action
MAGIC has recently bounced off of the $1.00 support and is currently heading toward its current resistance at $2.25. If the price breaks above this level, it will probably head towards the next resistance at $3.50.
Bottom Line: While MAGIC experienced a terrible year in 2022, it has since shown signs of recovery and is currently in the midst of a significant bull run. Its unique feature of respecting its support and resistance levels may make it an interesting choice for technical traders.